A Recap of The Last Few Months
Recently, there have been lots of exciting developments at the Studio and with Dead Island 2, so we thought we'd put this blog together as a recap of some of those key moments.
We've also included links wherever possible, so you can check them out for yourself!
Dead Island 2 Nominated in the 'Most Wanted Game' Category at the Golden Joysticks
We were over the moon to be nominated in the 'Most Wanted Game' Category at the Golden Joysticks last year! We were up against some seriously stiff competition, and it was an honour to be nominated. We want to thank everyone who voted for us.
Dead Island 2 'Another Day in HELL-A' Showcase
On December 6th, we held a showcase with Deep Silver all about Dead Island 2, which premiered live on YouTube, Twitch, and Amazon Prime. The showcase, titled 'Another Day in HELL-A', was broken into two sections: an original live-action short about a group of survivors exploring a seemingly abandoned mansion in LA and an all-new gameplay trailer. The gameplay section exhibited HELL-A as a location, teased the extensive arsenal of weapons available to slayers, showed off the visceral combat system, and demonstrated the Alexa Game Control features in DI2. If you missed the showcase, catch up here. .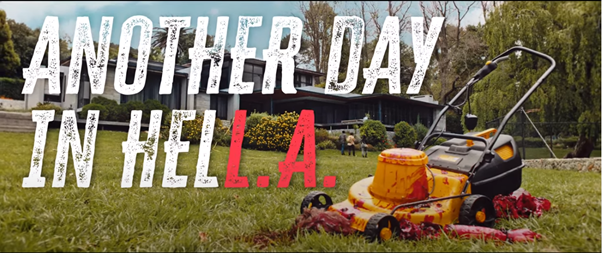 Game Informer Coverage
In November last year, Game Informer came to Nottingham to visit our studio and get their hands on Dead Island 2. The GI team spent a couple of days playing the game and learning more about its development from devs at Dambuster.
The December issue of Game Informer had a very familiar face on the front and featured an extensive write-up all about Dead Island 2.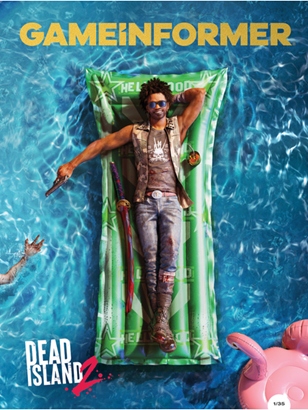 [The front cover of Game Informer's December Issue]
If you are a digital subscriber, you can read Game Informer's coverage of DI2 here.
Game Informer has since released several additional articles about Dead Island 2's development, the playable Slayers, the location of LA, and some of the game's features. They were also given an insight into how our Audio Team records gruesome foley sounds for zombies. You can find links to all this content below, which can be accessed free of charge.
We'd like to extend a big thank you to Alex and Wes from Game Informer for taking the time to come see us and learn a bit more about DI2, we absolutely loved having you in the Studio.
Video: Recording Zombie Guts with Dead Island 2's Sound Designers
Article: Dead Island 2 Survivor Ryan Is a Tanky Sex Worker With A Firefighter Routine
Article: Dead Island 2 Survivor Dani Is an Irish Punk Rocker With A Roller Derby Match To Catch
Article: Dambuster Studios Confident Los Angeles Is A Great Location For Dead Island 2, Even If It's Not An Island
Article: Dambuster Studios Never Considered Remaking The Original Dead Island 2 Reveal Trailer
Article: Weapon Durability in Dead Island 2 Is A Useful 'Instrument' For Dambuster Studios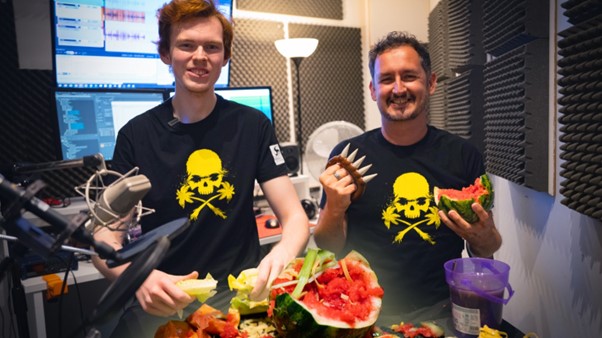 [Aran (left) and Ryan (right) from the Audio Team pictured by Game Informer as they demonstrated recording zombie noises by destroying fruit and veg]
Two New Recruits Joined Dambuster Studios!
In December, two new recruits joined us at the studio! They've brought an infectiously positive energy with them, but they did give the Cleaning Team a little fright on the first night they arrived.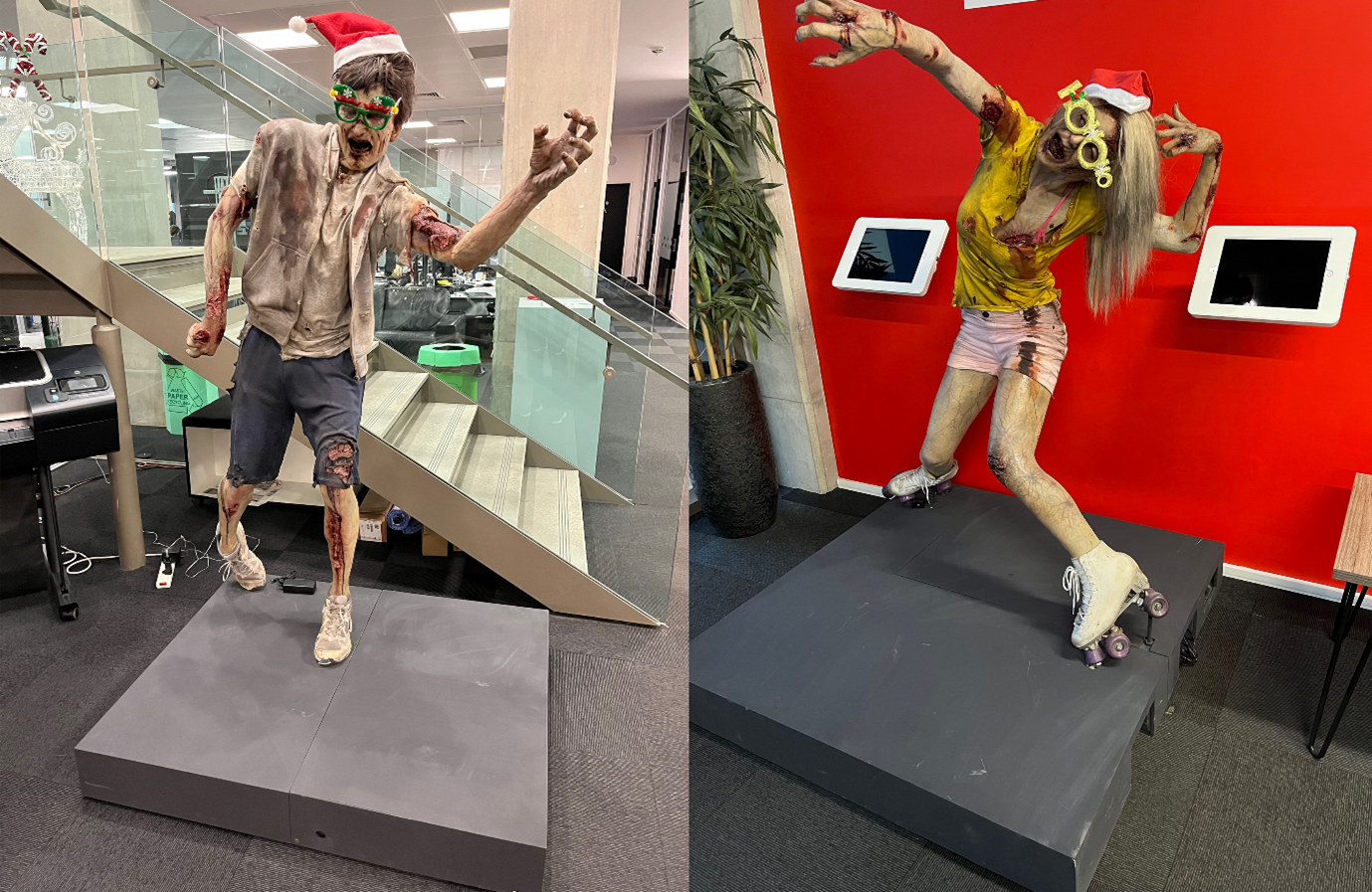 Come Slay with Us!
We're always on the lookout for talented people at Dambuster Studios. If you'd like to be a part of the team bringing Dead Island 2 to life, take a look at our careers page.
See You in HELL-A
All that's left to say is that we'll see you in HELL-A on 28/04/2023.
Pre-orders are now live and can be made here.